Microsoft Planner is a straightforward tool that helps organize and manage projects and teams. It is more powerful than simple task lists, but not as overwhelming as Microsoft Project. Since it's included with most Office 365 subscriptions, you probably already own it!
Planner works through your computer's web browser and the Planner app for iOS and Android devices, providing complete mobility for anywhere, anytime access.
To use Microsoft Planner, log in to Office 365 at www.office.com.  Click the app launcher (the waffle icon in the upper left) and select Planner.
From the Planner page, you will see all your plans or create a new one. You start by creating tasks. Tasks can:
include a due date
be assigned to one or people
include a check list of items to complete with that task
After adding tasks, you can sort them into buckets to help break things up into phases, types of work, departments, or whatever makes the most sense for your plan.
Microsoft Planner can notify members of your team with an email when there are new tasks or overdue tasks.  Planner includes a status screen/report of task statuses where you can easily get an overview what what's not started, in progress, late, or complete.  You can also see status by person.
Planner includes a scheduler page to easily drag and drop tasks.  The scheduling calendar can be seen side by side with your Outlook calendar.
Microsoft Planner integrates well with all Office 365 features including Microsoft Teams, Microsoft Flow, Microsoft SharePoint, and more.
Guest access in Microsoft Planner lets you and your team collaborate and participate with people from outside of your organization by granting them access to view and interact with your plan. Guest users can create and delete buckets and tasks, edit task fields, and edit the plan name. If you grant the guest user additional permissions, they can also attach a file or link to a task. Guest users will also receive some of the notifications associated with your plan.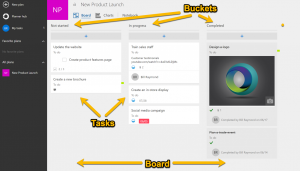 If you are looking to create better accountability within your team projects, Microsoft Planner may be the tool for you.
Enjoy!
-Jeremy
---
Tobin Solutions provides Microsoft Planner training and classes, Microsoft Planner administration, and Microsoft Planner integration.