Microsoft Teams​ provides chat-based collaboration and it comes with most versions of Microsoft Office 365.  There is also a free version.  
At Tobin Solutions, we use Microsoft Teams to store and collaborate on documents.  We've created different teams for different needs.  Each team has it's own security.  For example only our finance people have access to what's stored in the finance team.  Only are marketing people have access to what's in the marketing team.    Within each team, we have channels setup on different topics.  For marketing, we have separate channels for our website, marketing materials, our marketing plan, and more.
Everything is stored and managed inside of our Microsoft Office 365 environment.  I just log in anywhere on any device with my secure credentials and I have access to Microsoft Teams everywhere!
Configuration is easy, security is a snap, and you probably already own this amazing product – it's ready for you to try now.  If you are familiar with Slack or HipChat, then you are already familiar with Microsoft Teams.
With Microsoft Teams on your PC, Mac, or mobile device, you can:
Pull together a team.
Use chat instead of email or text.
Securely edit files at the same time.
See likes, @mentions, and replies with just a single tap.
Customize it by adding notes, web sites, and apps.
Invite outside users for free – including your customers, vendors, and partners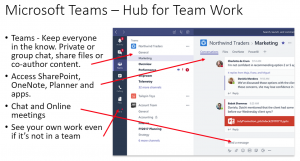 Microsoft Teams is a collaboration app that helps your team stay organized and have conversations—all in one place.
Teams – Find channels to belong to or create your own. Inside channels you can hold on-the-spot meetings, have conversations, and share files.
Meetings – See everything you've got lined up for the day or week. Or, schedule a meeting. This calendar syncs with your Outlook calendar.
Calls – In some cases, if your organization has it set up, you can call anyone from Teams, even if they're not using Teams.
Activity – Catch up on all your unread messages, @mentions, replies, and more
Tobin Solutions provides Microsoft Teams training, classes, education, integration and customization.  Tobin Solutions provides training and education for the entire Microsoft Office 365 suite along with system administration and migrations.