As the hub for teamwork, Microsoft Teams is where people – including people outside your organization – can actively connect and collaborate in real time to get things done. Have a conversation right where the work is happening, whether coauthoring a document, having a meeting, or working together in other apps and services. Teams is the place to have informal chats, cooperate quickly on a project, work with team files, and collaborate on shared deliverables.
Microsoft Teams is a collaboration app that helps your team stay organized and have conversations—all in one place.
Teams & Channels
Teams are a collection of people, content, and tools surrounding different projects and outcomes within an organization.
Channels are dedicated sections within a team to keep conversations organized by specific topics, projects, disciplines – whatever works for your team! Files that you share in a channel (on the Files tab) are stored in SharePoint.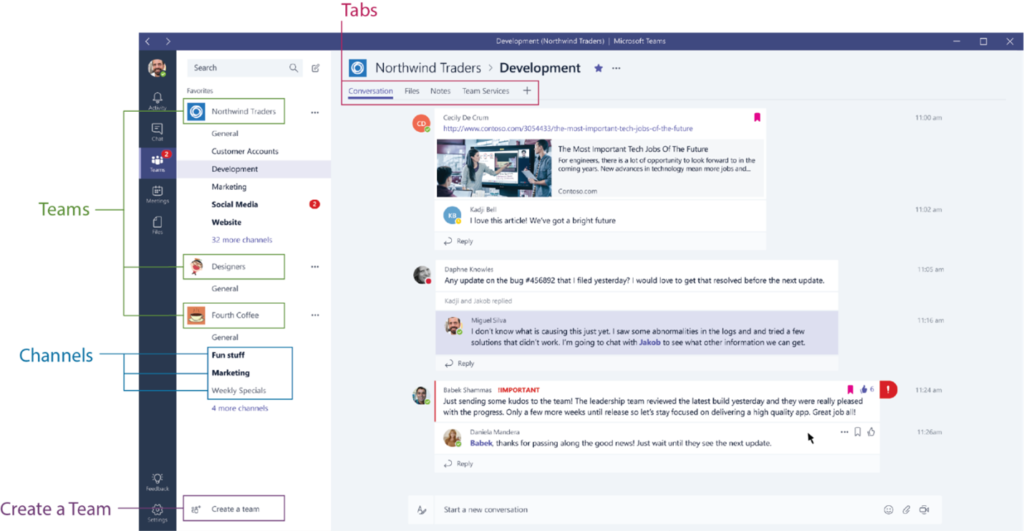 Need to share a file? Just attach it in the chat. Then simply call or video call your colleague to discuss the file straight from the window. Or schedule a meeting without leaving the chat. Chat's integration with other Microsoft products like OneNote and Office means no more switching between apps throughout your conversation. It's all right there in chat.
Meetings
Need to schedule a meeting. The Teams calendar syncs with your Outlook calendar. As soon as you create the meeting, you can start chatting with the participants about the agenda, share the files that you need them to review, and keep track of the meeting notes and to dos. You can even check who those unknown people are that have been invited. If you have people that weren't able to attend, the meeting can be recorded and is immediately available in the same tab.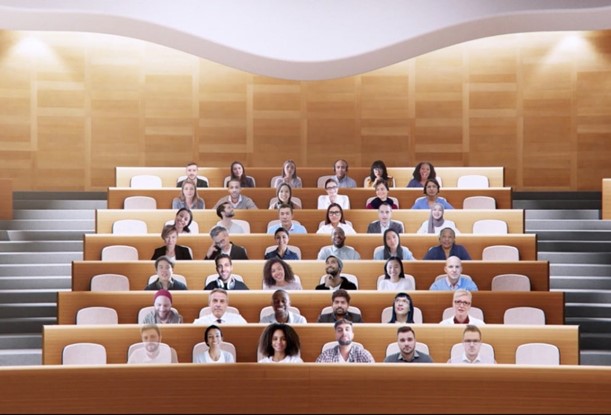 Collaborate
Every Teams channel has a SharePoint team site, and every SharePoint team site has a Teams channel. SharePoint is great for storing files in the cloud and making them accessible to a broad audience. And, you can take advantage of robust file permission management, document process flows, retention policies, and more. Here are ways to work with SharePoint:
Collaborate on files in Teams, create pages, use a shared notebook, and use the integrated Office 365 group to bring together conversations, calendars, and tasks.
Spread ownership and permissions across a wider collection of people. If a document is important to the success of a project, it's a good idea for there to be people other than yourself who can control what happens on the site.
Grant permissions on a site basis, instead of on individual documents. If people have access to the team site, then they have access to documents stored in the site.
Create attractive and effective site pages to organize information, post news, provide contact information, and provide navigation to documents, media, and other types of information.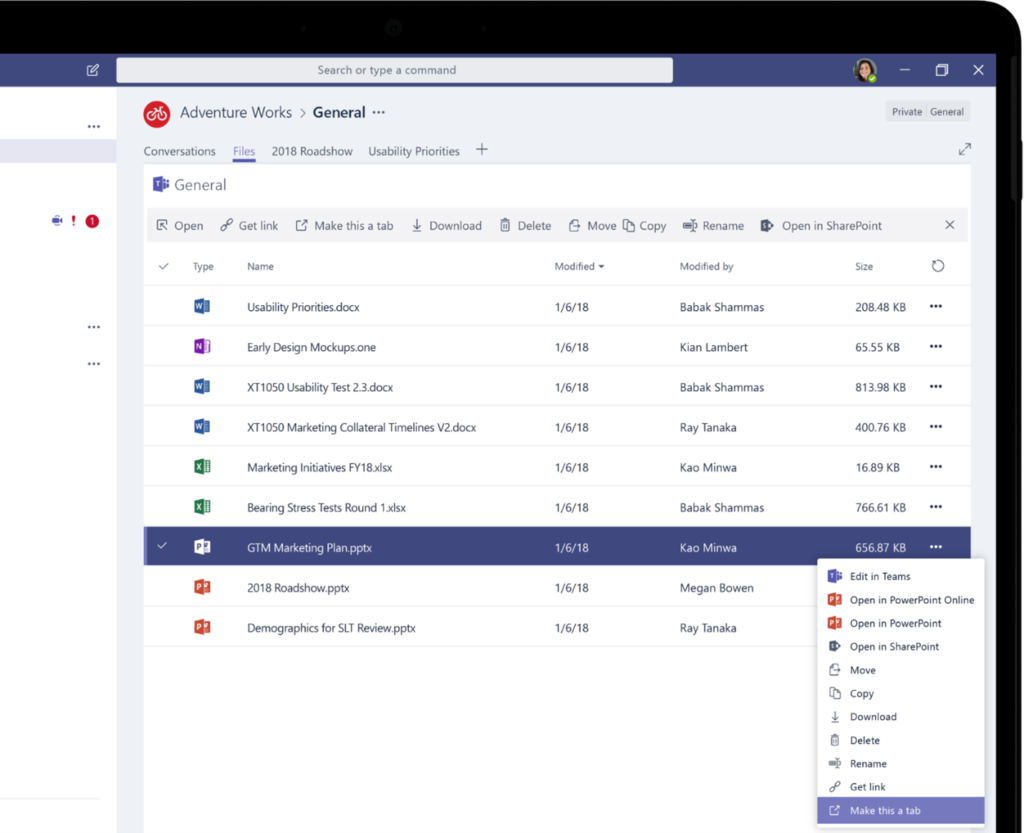 Get Started with a Teams Proof of Concept
Identify your proof-of-concept team – these should be your power users
Review and discuss what's possible with Teams – understand what it can and can't do
Identify the process, system, and data to be tested with this proof of concept – select one department or one project
Start with security first and understand and design your Teams security
Organization change management plan – this helps you roll out Teams and get buy-in and excitement from your team
Create test plan so you can verify everything works
Enable and verify the out-of-the-box Teams technologies in the cloud
Enable and verify operation of the client-level (workstation and mobile) supporting technologies like the latest versions of Microsoft Office
Basic orientation and training
Troubleshooting and follow-up questions
Review results, feedback, and decision point – are you ready to move forward with Teams?
Looking for help?
Tobin Solutions provides a full range of support for Microsoft Teams. Tobin Solutions can assist with Microsoft Teams set up, Microsoft Teams proof of concept, Microsoft Teams Training, Microsoft Teams administration, Microsoft Teams integration, and more.